Breakfast
You're on your own for breakfast, but we'll probably have some coffee brewing, starting at 8am.
Lunch
Lunch is on your own. Directly across Campus Dr. from UCI (a 10 minute walk from Engineering) over Watson Bridge is the University Center shopping center with a variety of sit-down and fast food restaurants.
Directions: from the Engineering quad, start at Ring Road and turn right. Walk along Ring Road until you reach the flagpole near Aldrich Hall and Langson Library. Turn right and proceed over the Watson Bridge (follow green path on map) .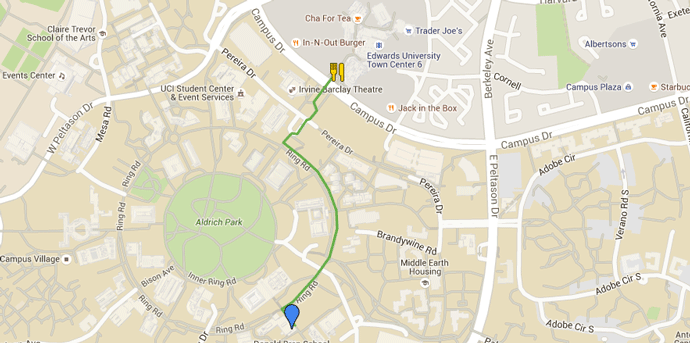 view larger map
ADYA fresh indian flavors
Blaze Fast-Fire'd Pizza
California Gogi Korean Grill
Chat for Tea
Chick Fil A
Chipotle Mexican Grill
Del Sushi
Eureka! micro brewery
Gen Grill
In-n-Out Burger
Jack-in-the-box
Le Diplomate Bakery Cafe
Luna Grill
Mendocino Farms
Nekter Juice Bar
Peet's Coffee (hours: 6a-11p)
Slapfish
Snow Monster
Spoleto
Stax Cookie Bar
Taco Bell
Temakira
Tender Greens
Veggie Grill
Yogurtland
Yushoken
A little farther down Campus Dr. (a 15 minute walk) is Campus Plaza with:
Asian Box
Del Taco
Gina's Pizza & Pasta
The Habit Burger Grill
Hen House Mediterranean Grill
Pig Haus Taiwanese Cafe
Starbucks Coffee
Strickland's Homemade Ice Cream
Vitality Bowls
Which Wich Sandwiches
A 5-minute drive off-campus at Bison Ave and Bayswater is The Bluffs, a small shopping center with:
Chipotle
Coffee Bean & Tea Leaf
Daphne's Greek Cafe
Islands
Jersey Mike's Subs
Johnny's Real New York Pizza
Panera Bread Bakery (free WiFi; hours: 7a-8p)
Pei Wei
TLT Food
Wasa Sushi
Wildfish Seafood Grille $$$$
Wonderland Bakery
All on-campus retail restaurants are closed on the weekend with the exception of Stabucks and Wendys, upstairs in the Student Center open on Saturday (only) 10:00am-4:00pm.
DrupalCamp after Dark, Saturday, August 5
Current plans are to meet at Eureka! Brewery in the University Center shopping center across Campus Dr. from UCI (10 minute walk). We'll have some tables outside, so buy your drinks at the bar and join us on the patio.
After hours / nightlife
For those interested in seeing a bit of the night life in Orange County we recommend checking out the following scenes:
Irvine Spectrum (Irvine @ 405 & 5 freeways)
Fashion Island (Newport Beach off MacArthur Blvd & Pacific Coast Highway)
Newport Beach (Follow 55 freeway south, and continue on down Newport Blvd to Balboa Penninsula)
Huntington Beach (Dining and Drinking)
Laguna Beach (Arts and Dining)